Building a Strong Healthcare Marketing Foundation: 9 Strategies
Constructing a resilient and comprehensive foundation is the bedrock of healthcare growth acceleration and marketing success. As patients and consumers increasingly turn to digital platforms for their healthcare needs, establishing a multifaceted strategy is of paramount importance.
Explore Rocket's 9 strategies to upgrade your healthcare marketing strategy below, or contact us today for a free growth plan and personalised recommendations.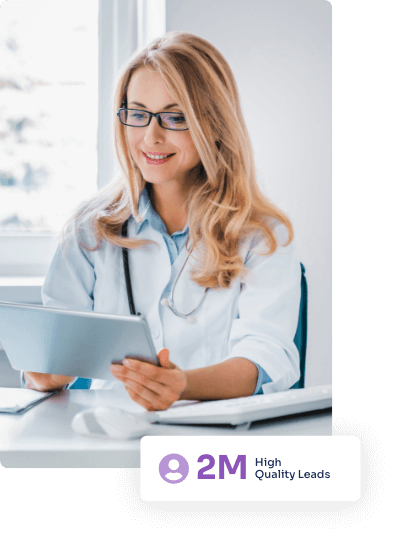 1. Creating Compelling Content
At the core of any triumphant healthcare marketing initiative lies the creation of compelling, educational content. This content serves as a conduit of valuable information for patients, while also solidifying your brand's position as an industry authority.
By artfully integrating storytelling into your content, you can cultivate emotional connections with your audience, fostering brand loyalty.
Simultaneously, optimising your content for search engines and voice assistants ensures that your valuable insights reach those actively seeking answers in the digital sphere.
2. Leveraging Social Media for Healthcare Marketing
Social media, with its colossal user base, offers an unparalleled platform for healthcare marketing endeavours.
"Currently, more than 40% of healthcare consumers utilise social media for their healthcare information needs [...] this being even more in the consumers who are in the 18–24 years age group, compared to the 45–54 year age group. 90% of healthcare consumers in the 18–24 year age group utilise and believe healthcare information presented in social media."
Developing a robust and agile social advertising strategy empowers you to interact directly with patients and consumers. These genuine interactions establish a solid base of trust, which is essential in the healthcare realm.
Furthermore, social media advertising provides a sophisticated mechanism for fine-tuned audience targeting, enabling you to focus your efforts on specific demographics most relevant to your services.
3. The Power of Podcasts in Healthcare Marketing
Podcasting, a dynamic, intimate, and yet booming medium – currently, there are over 460 million active podcast listeners (Influencer Marketing Hub) – holds immense potential in healthcare marketing strategy.
By incorporating podcasting into your strategy, you unlock a distinctive avenue to connect with your audience on a profound level. Hosting guest experts and facilitating discussions on pertinent healthcare subjects positions your brand as a thought leader, fostering a sense of trust and credibility. Furthermore, leveraging platforms such as Apple Podcasts, YouTube, or Spotify allows you to reach an expansive and diverse audience base.
4. Harnessing the Potential of Telehealth and Telemedicine
According to the American Hospital Association, 76% of hospitals now offer telehealth services, a sharp rise from just 35% in 2010 (Medium).
The integration of telehealth and telemedicine into your marketing strategy is pivotal in catering to evolving patient needs while broadening your market reach. Effectively promoting the benefits of virtual care can attract patients seeking convenience and accessibility.
In particular, the inclusion of telepsychiatry in your offerings addresses the pressing demand for remote mental health services, underscoring your commitment to comprehensive care in the digital age.
5. Embracing Digital Therapeutics in Healthcare Marketing
Similarly, digital therapeutics – a revolutionary approach to patient care and marketing – affords a unique opportunity for differentiation. By showcasing the demonstrable efficacy of digital solutions to consumers, you position your brand as an innovative and progressive entity. Moreover, collaborative efforts with pharmaceutical companies can yield mutual growth benefits, creating a symbiotic partnership that elevates both parties' standing in the industry.
6. Utilising CRM Systems to Improve Patient Experience
In the landscape of personalised healthcare marketing, customer relationship management (CRM) systems function as a linchpin.
Strikingly, four-in-five patients are more likely to book an appointment after receiving a personalised experience (Medium). CRM systems enable you to tailor your communications precisely to individual patients, resulting in heightened engagement, satisfaction, and long-term loyalty. The strategic application of customer data empowers you to craft campaigns that resonate with your audience's distinct preferences and needs.
7. Implementing Effective Call-to-Action Strategies
The strategic placement of compelling call-to-action (CTA) elements is a cornerstone of patient engagement. Meticulously designing impactful CTAs and subjecting them to continuous A/B testing facilitates the optimisation of patient interaction pathways, thereby driving engagement with clinical offerings and ancillary services.
8. Utilising Customer Data Platforms
In an era where data reigns supreme, the employment of customer data platforms (CDPs) emerges as a cornerstone of a successful healthcare marketing strategy.
These platforms facilitate the collection, organisation, and analysis of customer data, laying the groundwork for a sophisticated and personalised marketing approach. By leveraging CDPs, you can delineate precise audience segments, resulting in highly targeted and resonant messaging.
9. Analysing Touchpoints and Enhancing Customer Experience
Every interaction a patient has with your brand constitutes a touchpoint — a pivotal opportunity to foster positive sentiment and enduring engagement. By meticulously identifying touchpoints across the intricate patient journey, you can tailor each interaction to amplify satisfaction and strengthen the patient-provider relationship.
Worryingly, 62% of people think healthcare services are deliberately confusing (Businesswire), and 66% say that they are left to handle so many responsibilities that they 'feel like a general contractor' with regards to their own healthcare (Harvard Business Review).
Things shouldn't be this way – and they don't have to be. A more holistic, data-driven approach to enhancing customer experience ensures that every point of engagement aligns seamlessly with your brand's values and goals, as well as making the patient and their unique journey the top priority.